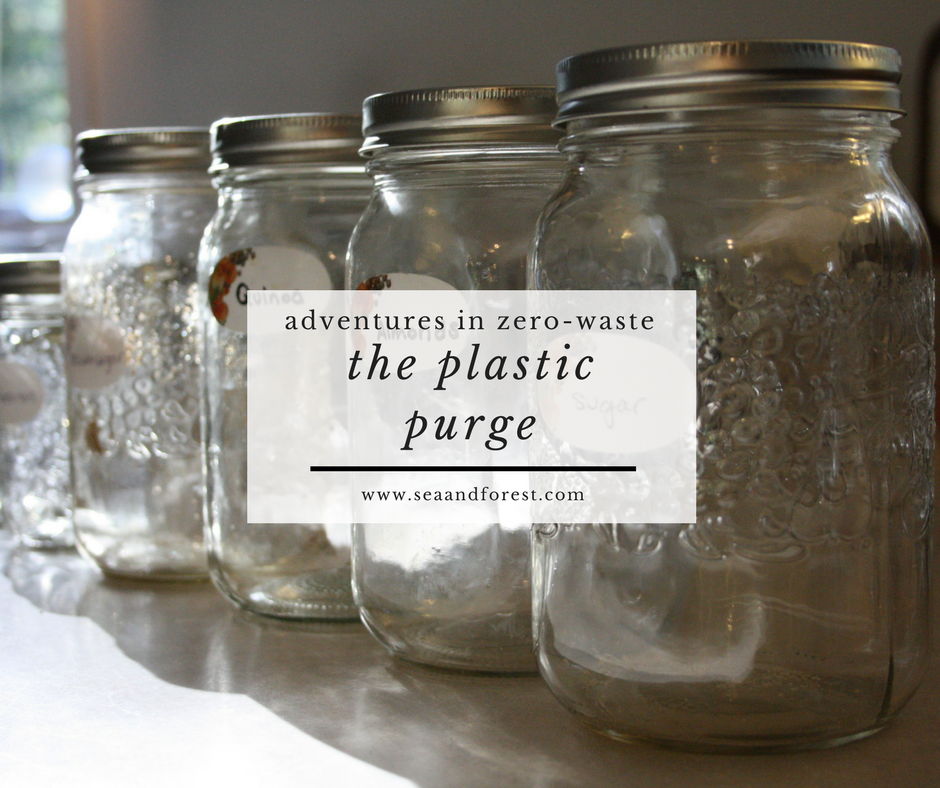 It always starts with a book. I don't know whether it's the librarian in me, or the dreamer, but my insatiable appetite for the written word finds me attempting to better myself once again.
So. This book.  I picked it up off the shelf at the bookstore, and made a random note to find it at the library. It looked a bit like a home-decor book, and was shelved alongside the design and gardening books. I didn't think much about its ability to change my life.
I guess I'd heard of zero waste before, but I hadn't quite transferred the concept to my home. When I read about Bea, and her family's journey to zero waste, I felt challenged. There is someone else actually doing this. It can be done. And the question became, not, "how could I do this?" but "how could I not do this?"
Much like the purchase of our angora rabbits (brought on by another book), I ran with my enthusiasm. And, without further ado, I started.
My first challenge was to look at how I grocery shopped. I saw an immediate problem here. Particularly, as it was winter (no farmer's market, scant availability of convenient local foods), I had let some of my usual food-conscience relax. The first time I went grocery shopping after diving into the book, I will admit I was actually shocked by the amount of plastic I brought home. Everything I bought (from apples, to pasta, to lentils and cauliflower) was wrapped in plastic. Bringing my own bags to the store (as I always do) was almost laughable, considering the amount of packaging that was coming home with me.
I started small. One day, I brought a glass container to the meat store, and kindly asked for them to put my meat inside. Bless the saleslady, she didn't look at me too weirdly. My first success!
Another day, I set out with a glass jar to use at the fresh-ground peanut butter machine at the local health foods store. Sorting out how to account for the weight of my jar was a little tricky. But, it was doable!
The next time, emboldened by my success, I lined up my beautiful glass jars, wrote all of the tares (weights) on their lids, and set out. The fiasco at the checkout was what I'll call a set-back. The local organic health foods store was wonderfully patient, but when I asked what the best way to do this in the future would be, the kind answer was, essentially, please don't.
Thus far, I had learned a few things.
1. Make your own cloth bags for bulk items. Fussing with the extra weight of jars was not practical, or welcome.
2. Finding ways to buy in bulk, sans packaging, was essential.
3. In short, I needed to change my buying habits if I was going to make this work.
I began a grocery store audit. I shopped at three of our local large grocery chains, and the one organic foods store to see how each would rate.
Some were definitely better than others. One had more items in bulk. Another had more un-bagged organic fruits and vegetables. The organic store had the option of paper bags for bulk & veggies – for which I was very thankful. But the pre-packaged bulk foods were all in plastic baggies. And, although they had milk in bottles, it is clear you pay a premium for this service.
Two weeks ago, as I was sharing my plight with an acquaintance, she let me in on a little secret. One of my favourite local farms from the market grows year-round (in a wood-heated greenhouse). And they deliver! I now receive all my veggies (and am even able to get milk in a jar at a slightly lower price) through her! Last week, I asked her about not delivering in plastic bags, and, instead of looking at me strangely (something I've been getting very used to), she said many of her customers feel the same. They get deliveries in a re-useable box instead! So, this week, that will be me!
As for bulk dried goods, I've been re-using paper for the past few weeks. It's been working until I can sit down and make myself some more cloth ones.
I'm still searching for zero-waste meat and cheese alternatives (that don't include buying in tiny quantities from a deli), but I'm making strides. I'm on my way to eliminating buying veggies & fruit in plastic. This week, I intend to save money buying extra milk in a jar and making yogurt with it. The savings from my homemade yogurt (which is easy to make and delicious, anyways), should make up for the extra cost of milk (thanks to my sister for the idea). I have a pretty good rotation of grocery bags in my home and car, so I never have to resort to plastic (although I do need more mesh produce bags). And, I'm getting braver at refusing receipts (pretty sure it's the polite Canadian in me that finds this so hard).
Anyways, the point it, it's coming. And every little victory feels so good. There is something so wonderfully, oddly, satisfying, in conscious shopping. Alongside the many environmental benefits, zero-waste shopping is fun. It's empowering. And, it's kind of addicting.
My suggestion. Try it! You never know just how far it might take you.